EMAIL:
SALES
GREG
MIKE
DAVID
BRYAN


PHONE:
972-323-0797

FAX:
972-323-0785
Index>Home>Low Profile >250 Series
250 Series Low Profile Conveyor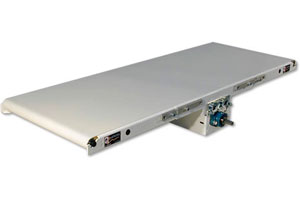 SPECIFICATIONS

Extremely low profile conveyor, only 1.89" high.
Zero down time during lubrication, No drive removal necessary.
Less than 5-minute belt change provided by single point eccentric tensioning.
Stocked components for quick delivery.
Widths up to 24" and lengths up to 25' (Longer lengths available).
Heavy duty load carrying capacities up to 630 Lb.*
High impact-resistant single piece formed powder coated 10-gauge steel frame.
Self-aligning drive bearings with seals.
Motion detection for use in applications where it is necessary to know conveyor belt is running.
Wide variety of application specific Belting available.
Wide variety of Sides, Guides, Mounts, Stands, Drive Packages and Controls.
Automation Accessories: Transfer Plates, Diverters, Nose Bars, Adjustable Stops and Turning Wheels.
Conveyors available in Corrosion Resistant and Magnetic styles.