Index>Home>

Flexible and Truckloading TL230 Conveyors
Innovative Conveyors Concepts- Flexible & Truck Loading Conveyor

Call ICC for quick quote and quick delivery.
Flexible Conveyor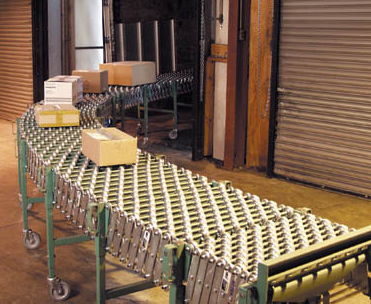 DETAILS
Features
Handles on each leg.

5" axle centers standard.
5" casters standard.
Steel skate wheels with ball bearings.
18" and 24" conveying surface.
Heavy duty 5/16" axles.
One Piece constantly vertical all steel skate wheel and axle.
Built tough for back room applications.
Height adjustment: 28-1/2" to 41-1/2".
Expansion Ratio of 3:1.
Heavy duty 7 gauge steel side links- extra long.
Solid weld construction on all leg supports.
Four point leg support.
Options
3 and 4 inch axle centers available with minor adjustments.
Fixed and retractable end stops.
Impact load table.
6" x 2" casters.
_______________________________________
TL230 Extendible Two Piece Truck Loader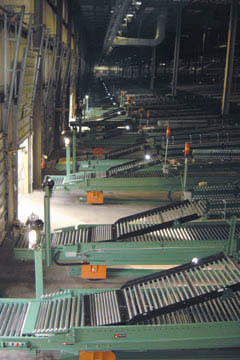 DETAILS
The TL230 Extendible Telescoping Conveyor is built to withstand punishment in shipping areas that have a high degree of forklift traffic or other collision obstacles.
Two-piece telescoping conveyor.
10" structural steel channel frame.
1.9" x 16 ga. galvanized rollers.
Collision protection wheel guards.
18" dia. six ply pneumatic foam filled tires.
32'-6" Stored Length.
60' Extended Length.
60' FPM Travel Speed
54" discharge height (+/- 3 inches)
26" working height.
Direct drive 1.5 HP gear motor with 2-7/16" dia. drive shaft.
Soft start and stop controls.
Used by major warehouses throughout the United States including: Wal-mart, Toys-R-US, and Lowes.