EMAIL:
SALES
GREG
MIKE
DAVID
BRYAN


PHONE:
972-323-0797

FAX:
972-323-0785
Index>Home>Low Profile >400 Series
400 Series Low Profile Conveyor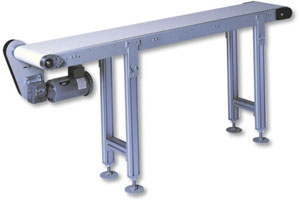 SPECIFICATIONS

Widths up to 60" and lengths up to 100'
Low profile conveyor, only 3" high.
Tight belt-to-frame width ratio (Belt width 0.72" less than frame width).
High speeds up to 2000 fpm.
Self aligning drive bearings with seals.
Bearings can be lubricated rapidly without drive removal.
Optional self-tracking V-guide is thermally welded to the carcass of the belt.
Ability to run multiple bands of belting on one conveyor.
Quick belt change without removal of drive package or guide rails.
Heavy duty load carrying capacities.
High impact resistant single piece formed powder coated 10-gauge steel frame.
Wide variety of application specific Belting.
400 Series Heavy Duty Conveyors are available in Corrosion Resistant, Cleated Belt and Magnetic styles.