MicroSpan is a new concept in plastic chains, developed for Powered Transfers. Powered Transfers are devices that fill the space between the end of one conveyor and the next. They are used when "end to end" product movement is required and conventional chutes or idler rollers will not work.
MicroSpan Chain
MicroSpan chain is made of acetal plastic, with a charcoal grey color. It is a very small, all-metric design available in 4mm (0.16") and 6mm (0.24") thicknesses. All MicroSpan chain has a 5mm (0.20") chain pitch. There are three basic types of MicroSpan chain: 4mm Flat Top, 4mm Raised High Friction, and 6mm Raised High Friction.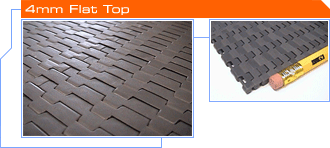 MicroSpan chain is 4mm (0.16") thick and features a smooth surface.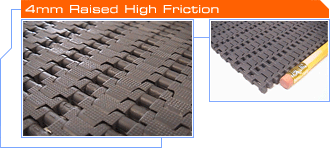 MicroSpan chain is 4mm (0.16") thick and has raised points on its surface. It is used on inclines where the product surface is soft and the points can aid in gripping the product.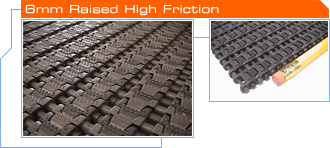 MicroSpan chain is used in applications where a stronger chain is required; 6mm (0.24") chain is more than twice as strong as 4mm chain.






MicroSpan chain has a snap fit design. One side of the link has a hook; the other side has a pin. There is no independent rod. The chain elements are molded in two lengths: 60mm (2.36") and 120mm (4.72"). The width module is 15mm (0.59"), and the chain is assembled in a "brickwork" pattern.
MicroSpan chain stock is 300mm (11.81") wide. The chain can be cut to widths starting at 90mm (3.54") and increasing in 15mm (0.59") increments. Effective chain widths greater than 300mm can be achieved by combining the 300mm (11.81") chain with an additional chain. In this way, a given facility can have many different MicroSpan conveyor widths, all made with the same convenient, single-width product.
MicroSpan Sprocket
The standard MicroSpan Sprocket is a two-piece, bolt-together design, allowing sprocket removal and replacement without shaft removal. The 44-tooth sprocket is made of Nylon, and has a light beige color. The two sprocket halves are identical. SpanTech can also supply special machined one-piece sprockets for specific, custom applications.